Range of plans to suit different needs
Monthly Fee
Local Data
Thereafter Charge
(on 'Advise and Consent' basis)^
Voice Mins
(Basic)
Contract Term

HK$298

6GB
HK$50/500MB
4,000
24 months

---

HK$238

2.5GB
HK$50/500MB
3,000
24 months

---

HK$198

1GB
HK$50/500MB
2,500
24 months
Add-on options to meet different needs of data lovers who have subscribed to the 6GB SuperCare Plan
More super-fast data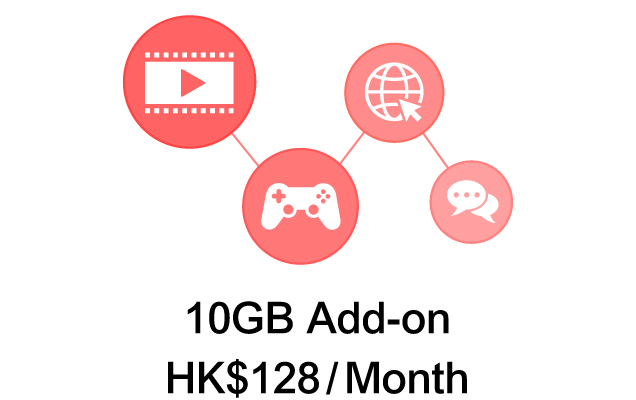 Peace of mind with unlimited data

Under FUP (Fair Usage Policy), when monthly data usage reaches the plan's data allowance, data service continues without speed throttling or data capping, but access to network resources will be given lower priority and data service experience may be affected.
Flexi-switch lets you change your plan once after you've signed up. Please click here to learn more.

Cash Bonus

Subscribe to any Smartphone Plan / Connected Device Plan / HomePhone+ and enjoy a monthly cash bonus of HK$20 when you also subscribe to ST Fibre Broadband for your home.
Worldwide Travel Data Pass

Subscribe to designated service plans with purchase of designated smartphones can enjoy Worldwide Travel Data Pass at HK$16/month with 1 day of data roaming for free in each month. For details of Worldwide Travel Data Pass, please click here.
Other services included: Intra SMS, voicemail, call forwarding, caller number display, call waiting and conference call.
Free WiFi service is available to a Customer who has subscribed to a designated FUP Unlimited Data Plan.
At any time when the local data usage on a plan nearly reaches the monthly allowance, an SMS notification will be sent to the customer. The customer may reply to the SMS to purchase a top-up. If no top-up is purchased, data service will be suspended when the data usage has reached the allowance. Customer may purchase a top-up at any time to resume service, or wait until the beginning of the next bill month to commence service again with the new monthly data allowance.

Any unused top-up local mobile data can be carried forward for free and can be used before the end of the next bill month. This is only applicable to designated service plans (1GB or above) with an "Advise & Consent" mechanism for the purchase of top-up data.

SmarTone Screen Replace™ is restricted to covering the repair or replacement cost of accidental physical damage of the smartphone screen and/or its attached LCD panel.