"Spend it" will end on 28 February 2017.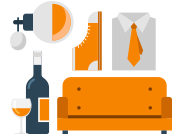 Enjoy an extensive range of exclusive offers
Offer categories range from dining, shopping, lifestyle and more, all exclusively available to SmarTone customers
Easy to download on your mobile and enjoy offers instantly

The $12 will be credited to the customer in the next phone bill when the coupon is used. For prepaid customers, $12 will be credited back to the SmarTone stored-value SIM account on the same day.

Never forget any downloaded coupons
An SMS reminder will be sent to you 5 days before any coupon expires

To become a Spend it merchant, please email us at spenditmerchants@smartone.com.