As enterprises increasingly recognize the synergy between cloud computing and mobile technologies, many are starting to prioritize the introduction and integration of both cloud and mobile solutions into the workspace when evaluating new initiatives. This is leading to the rise of a cloud-first, mobile-first mindset.
A well-developed strategy and deployment process enable enterprises to move seamlessly into the cloud-first, mobile-first environment, allowing them to increase productivity, increase business agility, attract and retain key skills, and engender innovation.
Why SmarTone as Your Cloud-First Mobile-First Partner?
To enhance your business agility with the reliable, secure and end-to-end solutions, SmarTone helps you develop and deploy your Cloud-First Mobile-First strategy based on industry best practices. We offer a range of best-of-breed applications to suit different aspects of your business. Easily and securely share documents with anyone, to digitising transaction processes. You'll enjoy the unmatched coverage and reliability of our fixed and mobile networks to access your data and application anywhere, anytime.
Features of SmarTone Cloud
High performance
Scalable
Enterprise-class storage and server
Key Solutions Offering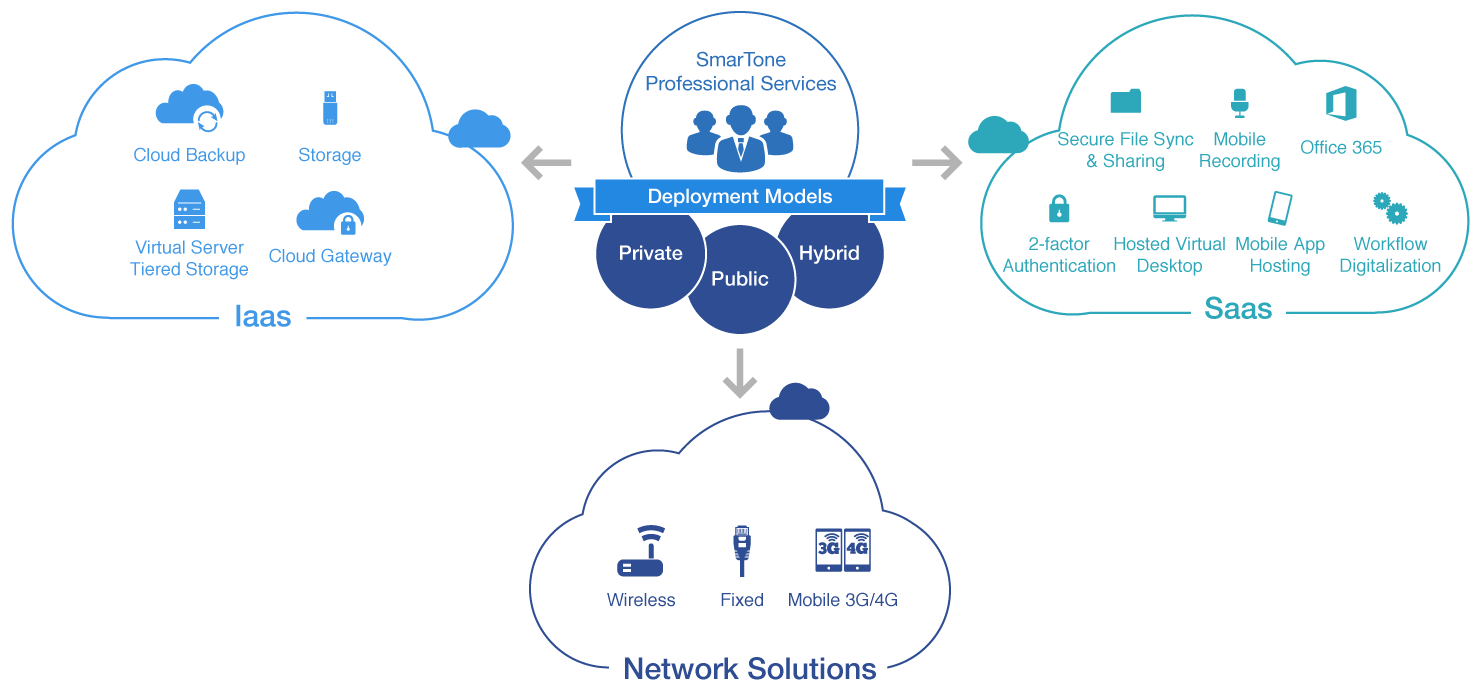 Mobile-First Application Layer Solutions
Cloud Gateway (Remote NAS)
Hosted Virtual Desktop
Secure File Sync and Sharing
Enterprise Backup Solution
Office 365
Customisation Services
Mobile Apps Development
Web Development
Workflow Digitization
Delivery Cloud Models
Private Cloud
Managed Private Cloud
Hosted Private Cloud
Public Cloud
Hybrid Cloud
Integrated Mobile and Fixed Network
Comprehensive 3G/4G data network coverage
High availability and seamless layer 2 and layer 3 end-to-end fixed services, from MPLS, Metro Ethernet, DIA to business broadband services
End-to-End Services
Provide one-stop professional services from advisory and consulting, migration, to solution provisioning
Cloud-First Mobile-First strategy advisory service to adopt cloud transition phase by phase
Case Sharing of Cloud Applications
An Interior Designer Works in a Remote Site
An Unmanned Car park with Smart Video Surveillance System