Browse SmarTone's full range of apps and services which are categorised for easier viewing
Check out all the latest services and promotions
Add your favourite services to your Home Screen with just a few taps
ST Apps The window that leads you to a world of SmarTone apps and services Browse SmarTone's full range of apps and services which are categorised for easier viewing Check out all the latest services and promotions Add your favourite services to your Home Screen with just a few taps ST apps comes preloaded on all smartphones purchased directly from us. If you use our SIM Only service, or cannot find ST apps on your Home Screen, click below to download it now! Or visit our
stores
and our staff will install it for you.

Download ST apps
Please select your smartphone operating system:
Please enter your mobile number below to receive an SMS with a download link.
Your mobile number:


Try a different code
Your mobile number collected here will be used solely to receive a download link via SMS and will not be used for any other marketing purposes.
Add ST apps icon to Home Screen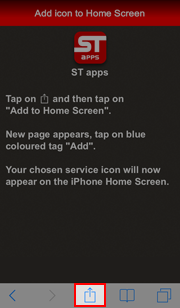 Tap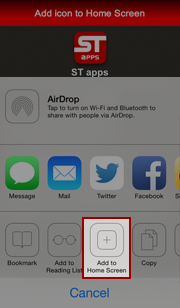 Tap Add to Home Screen and follow the simple instructions
ST apps icon will appear on your Home Screen, ready for use. You can move it anywhere on your Home Screen
Download, usage and content update of this service will incur data. It will be deducted from relevant subscribed price plans and charged at the applicable thereafter fee. Alternatively, it will be charged based on standard data charges.