The third cross-industry SmarTone Hackathon was successfully concluded on 26 - 27 October 2019. The theme of this year's competition was "5G & Smart City" to demonstrate Hong Kong as a vibrant international city. The competition attracted participation from over 150 local and international software developers, designers and entrepreneurs, among which one third were from Canada, the Greater Bay Area, India, Korea, Taiwan, Thailand and USA.
Top 3 winning teams were awarded HK$60,000, HK$30,000 and HK$20,000 respectively together with the latest gadgets. The champion team will also get a fast-track interview opportunity for either Cyberport Creative Micro Fund (CCMF) or Cyberport Incubation Programme for the chance to receive seed funding, while all the winning teams also enjoyed opportunities to be further developed and deployed in SHKP projects.
Winning teams of SmarTone Hackathon 2019 are including: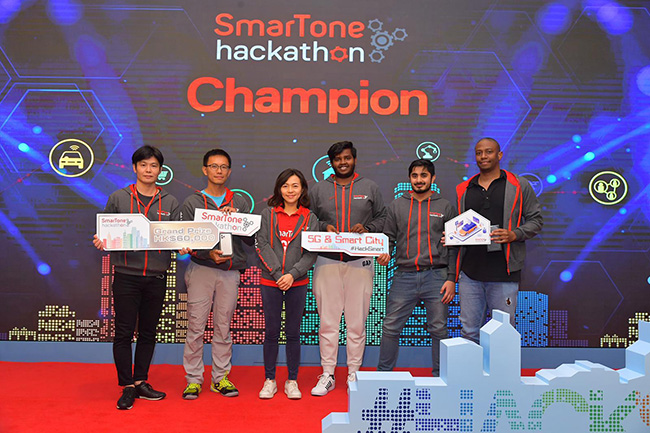 Champion: WeAR
An AR-enabled tee allows for ongoing customisation with constantly evolving designs and visuals through a mobile app. The customizable digital tees also provide users with a new fashion medium to express themselves.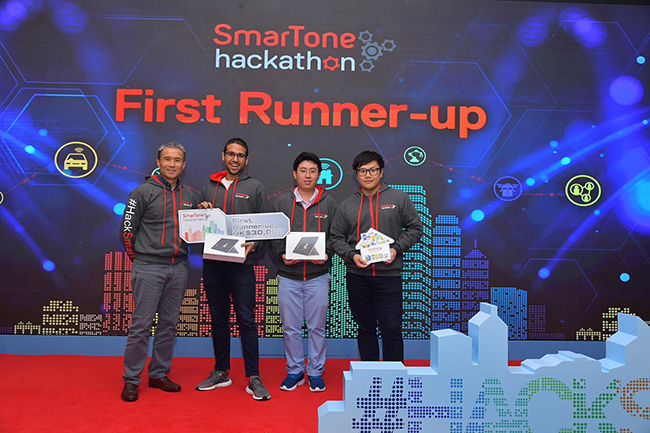 First Runner-up: I and AI
A personalised platform that helps individuals generate goals and make decisions, through applying AI and machine learning to their Google and Facebook data. Users access a dashboard that tracks their goal progress across specific categories defined by their personal data and interests.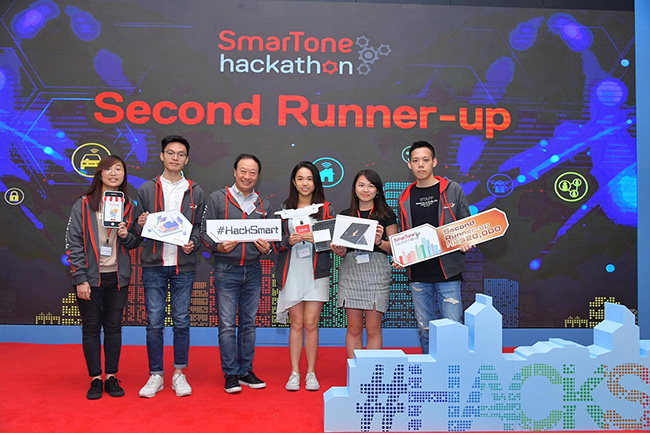 Second Runner- up & Smart Pitch Award: Softcare
A 5G-enabled system monitors the safety level of surrounding cars and issues real-time traffic warnings when people drive dangerously. The system also promotes safe driving with real-time analytics and a drowsiness detection system that sounds an alarm when a driver is falling asleep.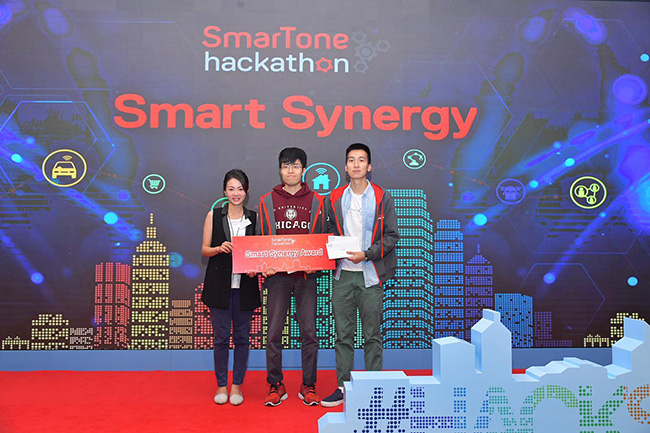 Smart Synergy Award: Luk Advisor
To facilitate a better in-store product research experience, customers can scan a product to instantly read reviews of products, receive personalised product recommendations and obtain sales offers. Local and GBA retailers will also be provided with immediate sales insights and service suggestions via a machine learning prediction algorithm.
Champion : WeAR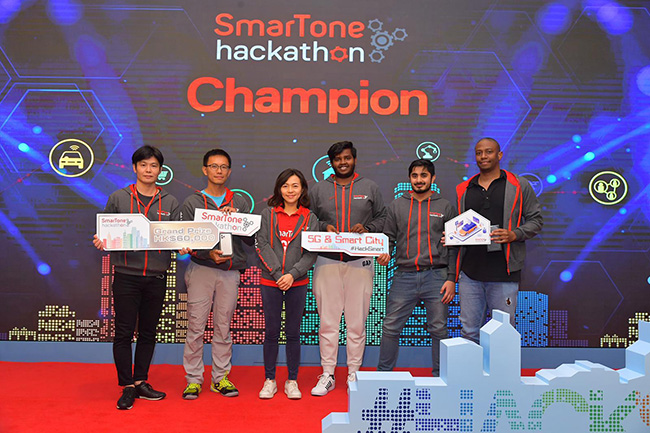 Team formed on the spot with teammates from 5 different regions. WeAR developed a new AR-enabled platform to successfully stored all product information of a merchant in a QR Code. Consumers could retrieve this information over the 5G network with a mobile phone or virtual glasses.
First Runner-up: I and AI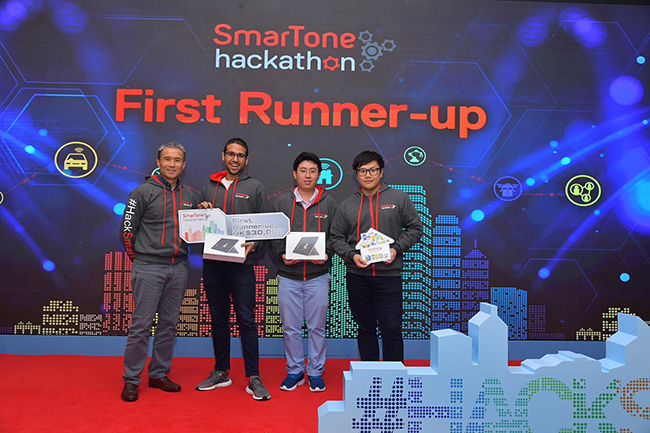 I and AI created a personalised platform to help users download their own data from Facebook or Google accounts for analysis through AI. Users could understand their preference better while merchants could provide more relevant and personalised message to their customers.
Second Runner- up & Smart Pitch Award: Softcare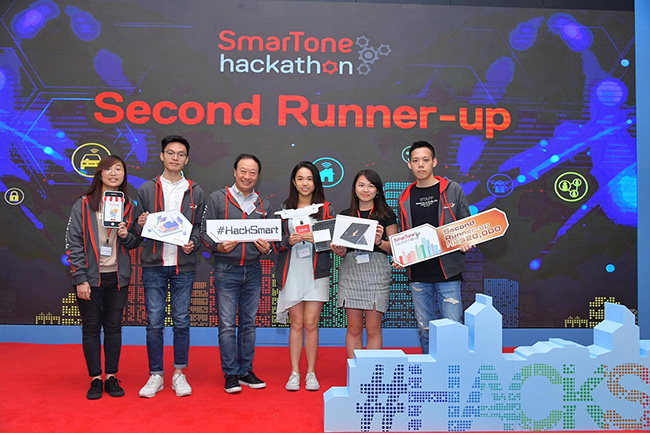 The idea of Softcare was designed to improve road safety. The system could monitor the safety of the road and the vehicles. If potential accidents were detected, signal would be issued.
Smart Synergy Award : Luk Advisor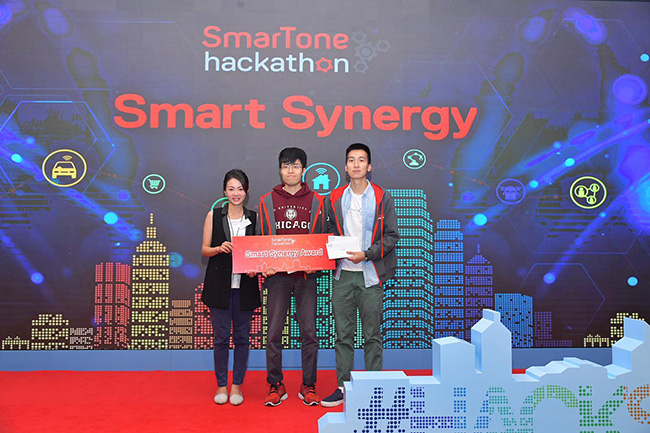 To use the technology of machine learning, Luk Advisor let users to get more product information and recommendation through scanning the relevant product with a scanner. This technology allowed merchants from the Greater Bay Area to provide instant information and recommendation to form a closer bond with the customers.
SmarTone Hackathon 2019 Video Highlight