X-Power all your smartphones or tablet devices to see more of the Internet.
Watch online Flash video unsupported by your smart devices
- Flash video, which remains a popular video format online, is not viewable on many smart devices.
- With X-Power, you can access these online videos without fuss.

Enjoy RSS feeds and Podcasts as you browse
- Automatic RSS and Podcast detection when browsing, and instant viewing or listening of content – even better than the experience on PC.

iPhone / iPad
Tap the Alert tile appears when RSS /
podcast is detected



Other 3G handsets and smartphones
Tap the icon appears when RSS /
podcast is detected



Retrieve bookmarks & history
- Store your browsing history and bookmarks online with password-protection, so you can easily retrieve it even if you change or lose your smartphone or tablet.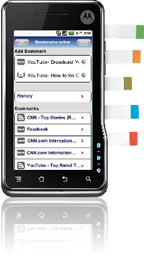 Share on Facebook or via email and SMS
- Share what you find online instantly using Facebook, email, or SMS.